Taproot Teacher Training 2023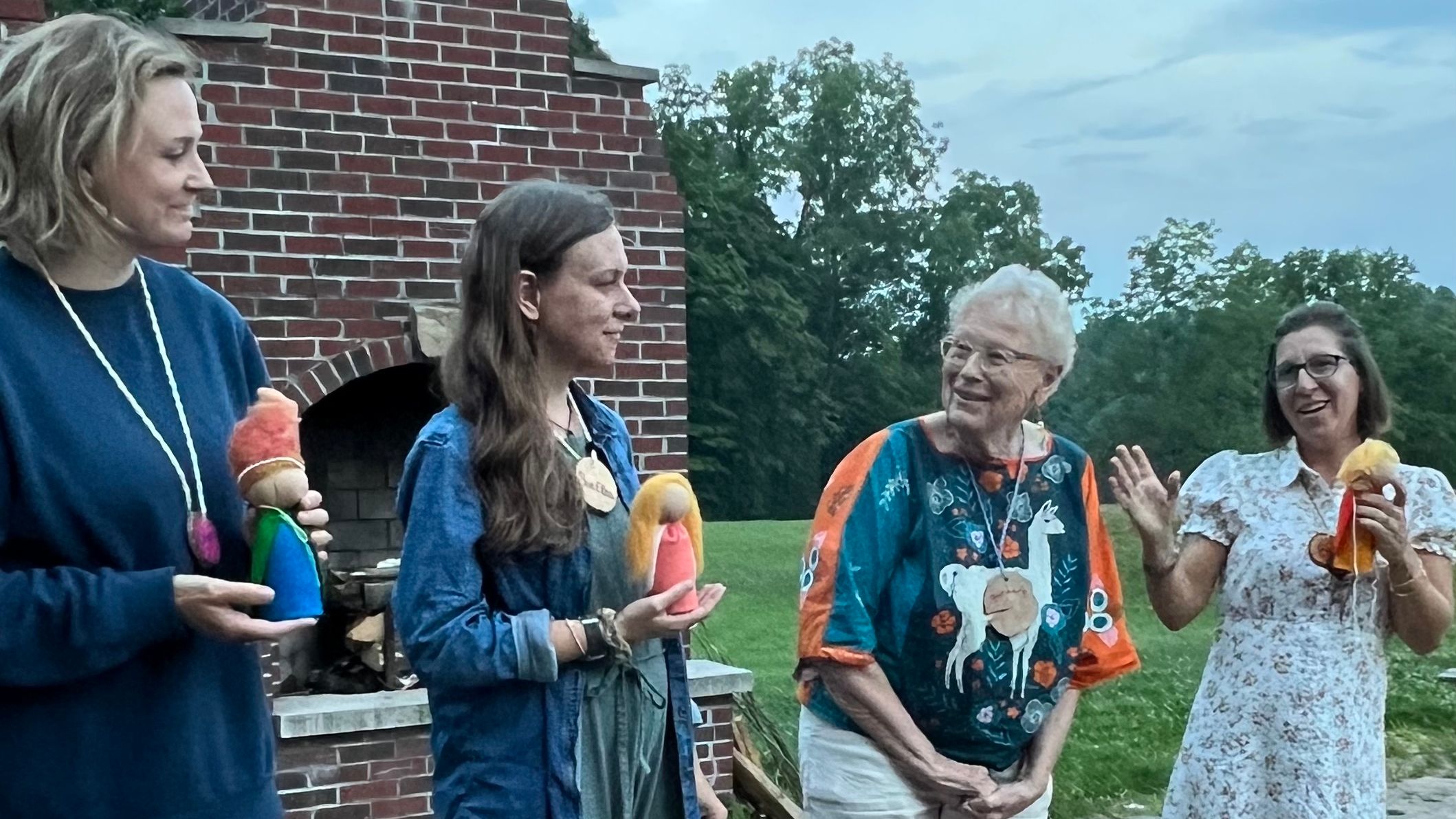 Taproot Teacher Training is always so magical from start to finish. This is my 8th year, as a presenter, and I am always amazed of the magic that happens.
WEDNESDAY- SUNDAY, August 2, 3, 4, 5, and 6.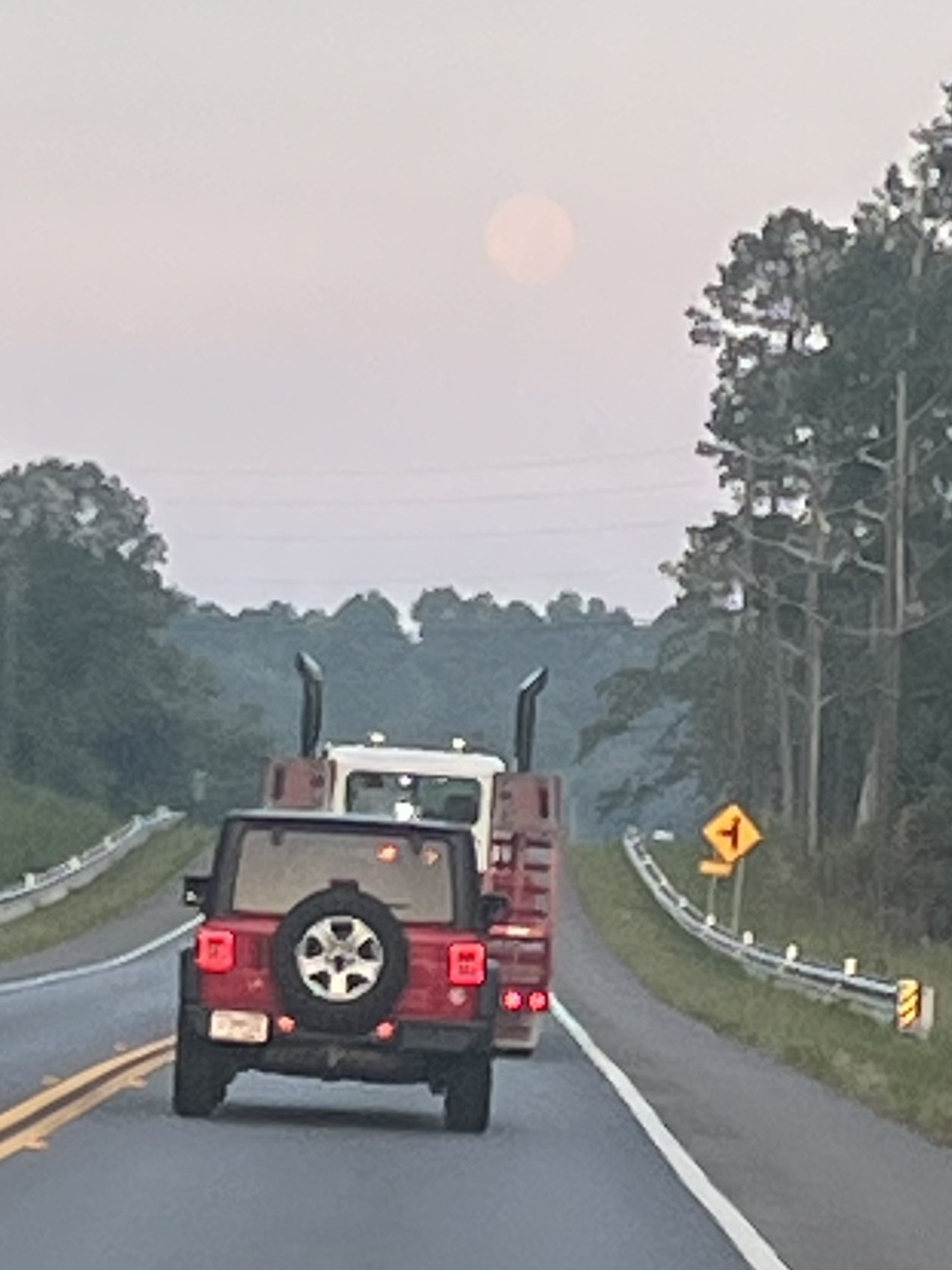 On Wednesday, I woke up at 4:30am, with the full moon still glowing, so I could hit the road with Lindsay at 6am.
We drove 750 miles north, through the Georgia mountains, the Tennessee mountains, the Kentucky blue grasses, across the Ohio farmland to a beautiful campground called Camp Asbury, outside Cleveland, Ohio.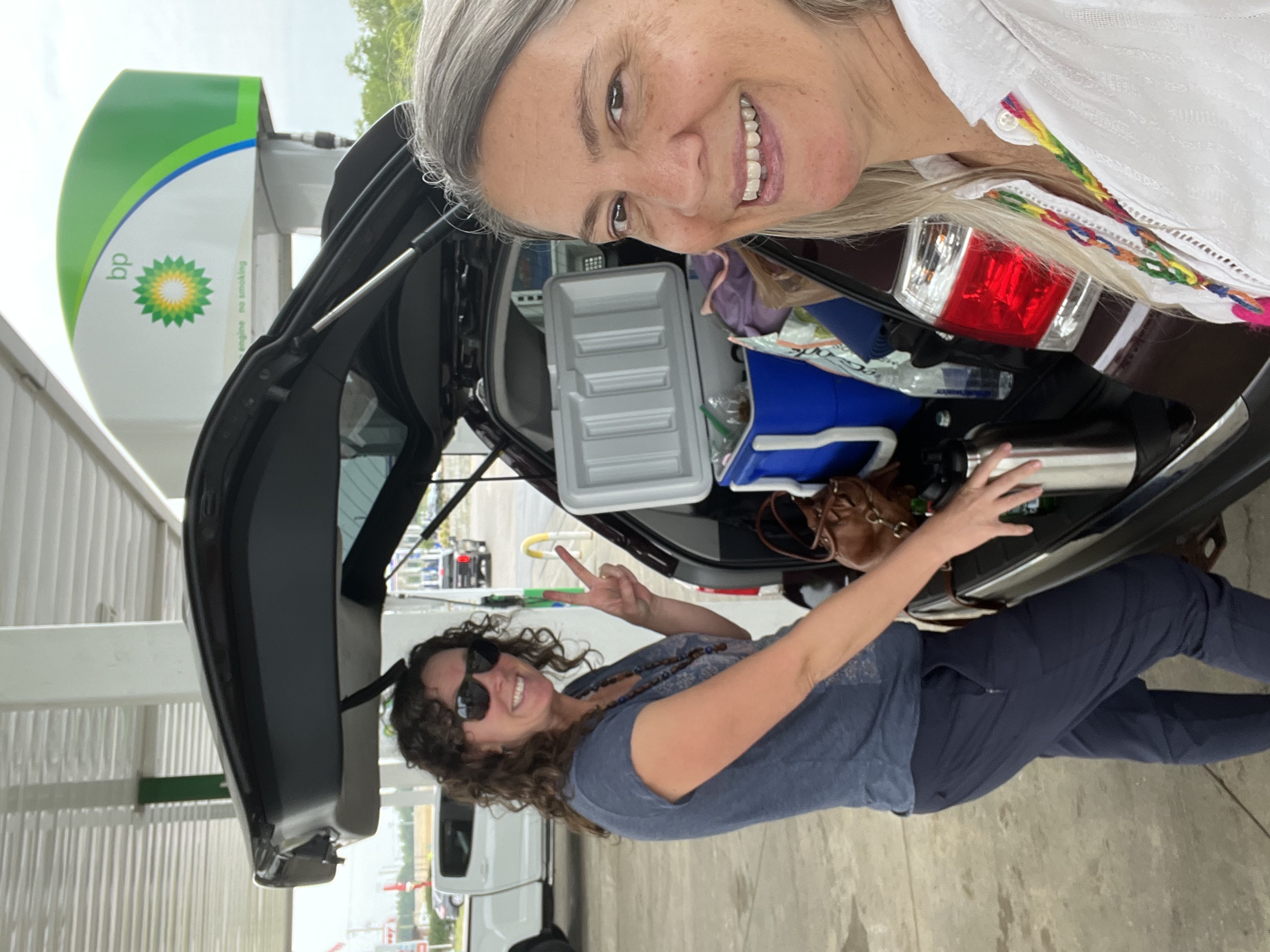 It took us all day, 12 hours, to get there, at 7 pm with the setting sun.
Getting there a day early, before the event, was nice, we got to spend some time with our Taproot Team family: Jean Miller of Art of Homeschooling, Barbara of Waldorf Without Walls, Rebecca, Amber, Joe, Sarah, Dominique, Christy and Karen.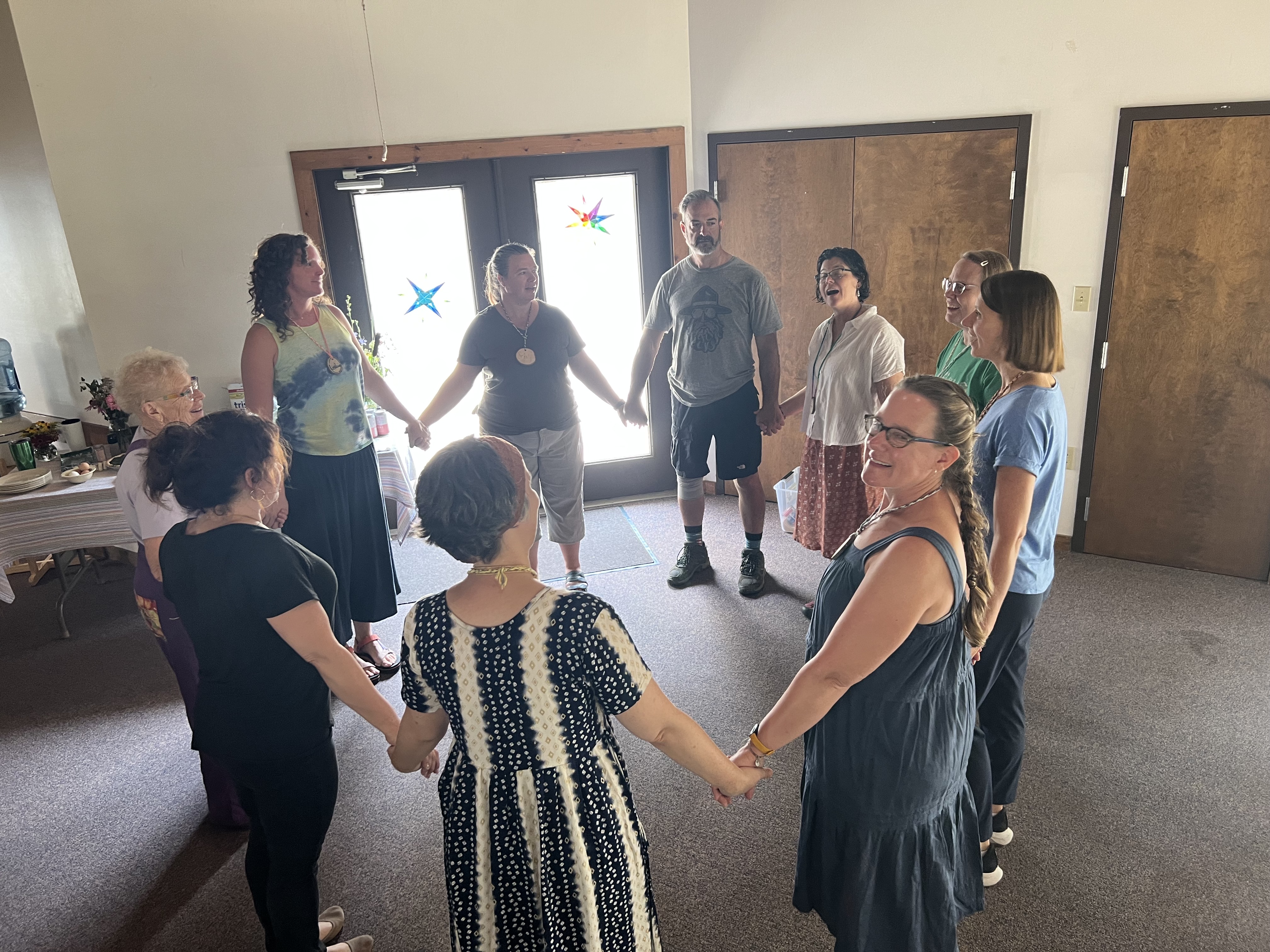 THURSDAY, August 3
Our morning was busy with us all getting everything ready. Then noon came around, people starting driving up, Jean and Barbara welcomed everyone at the outdoor popup tent.
Waldorf Inspired Homeschoolers from all over the US, Ohio, New York, Indiana, Illinois, Kentucky, Tennessee, Florida, California, Wisconsin, Virginia, South Carolina, and probably other states too.
There is always a fun craft to make while we are waiting for everyone to arrive.
This year, we made story sticks.
How cool to meet such great folks made from the same cloth as you, but in all these different states.
It was so fun to watch them pour in like: Justine, Amber, Jennine, Trinity, Theresa, Leah, Carissa, and Susan, Cindy, Megan and Laura, just to name a few.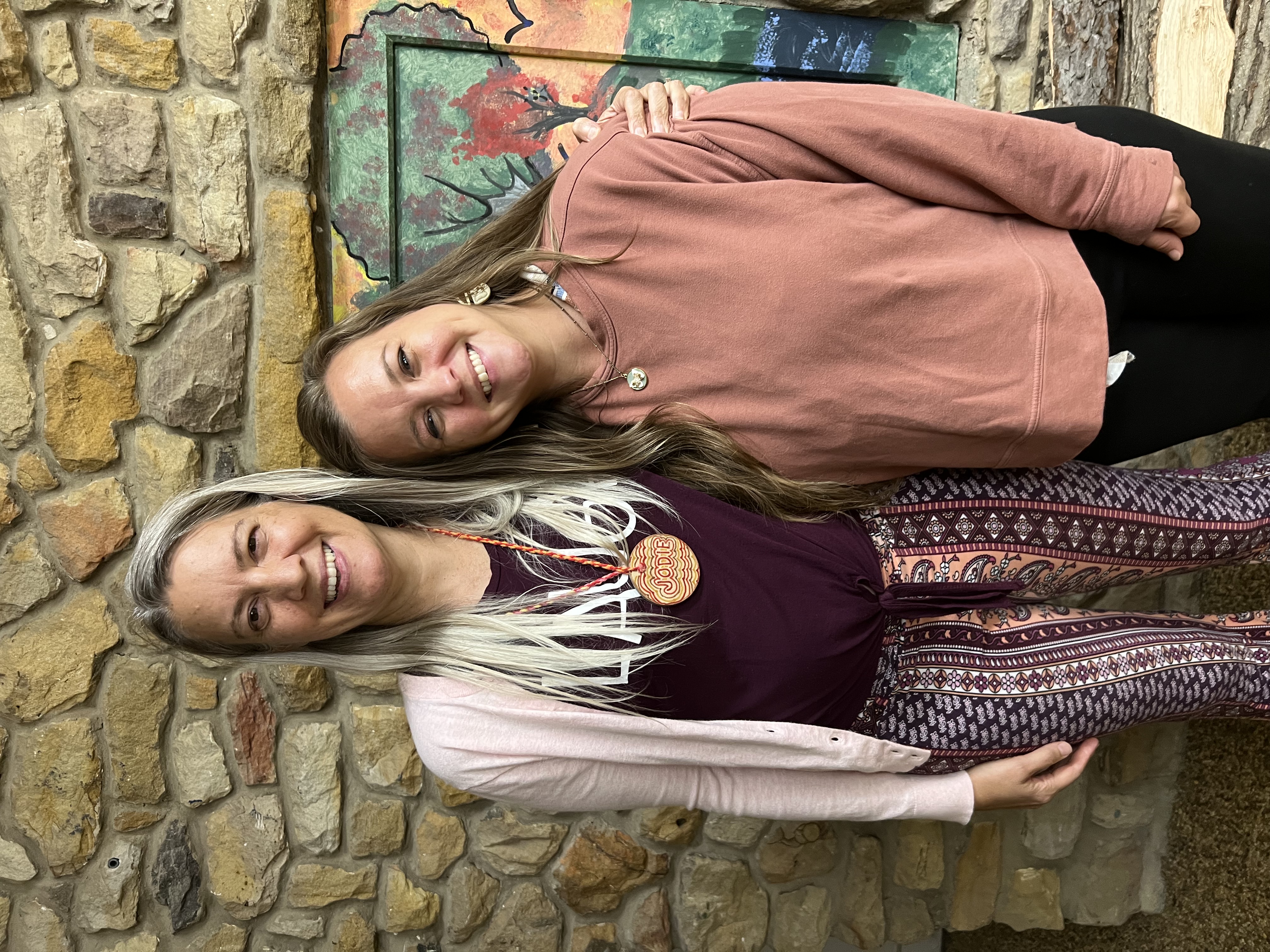 I love how Jean starts us off with a welcome circle. It allows us to become one body and one song, and it is always so joyful and fun.
Next, we found seating for the opening workshops, The Heart of Homeschooling, and Storytelling and The Lively Arts.
After such a great class, Jean broke us all into small groups, where I hosted my group with Karen.
Our group had "Music" as 1 of the 7 lively arts.
We came up with a quick artistic way to tell The Story of St. Frances, using percussion instruments to make our favorite animal sounds.
Next, we took a long walk to dinner. We met back, for an evening full of fun from 7:30- 9:00 pm.
For the first time, I got to be apart of Barbara's puppet show, with her daughter, Karen, The Story of St. Frances.
I played the pentatonic flute, added singing, and sound effects. We even burst out in 3-part harmony, "Alleluia!"
Barbara is the best, and is so magical, she made all her puppets and her set! She even taught us all how to make puppets in her workshops.
Then, Jean introduced all of us, the presenters, the Taproot Team, as we each shared our homeschool story.
We closed the night with Orientation to Our Weekend Together and then headed to our rooms, where I got to bunk with Amber, Christy and Rebecca in room 9.
Always fun catching up with these ladies and we finally got to lay down and fall asleep.
FRIDAY, August 4
The campers woke up to the sound of me and Jean singing gently down the hall at 7am, "It is light, come let us rise, for the sun is in the sky."
As we all got ready by 7:30, we could take a nature walk or do yoga.
Next, a 0.31mile walk to breakfast, over to the dinning hall. It's so nice to have meals together, family style, at a round table, where we dip from the same bowls onto our plates.
I really enjoyed the food and conversations, and not having to cook or clean.
At 9:00am, we did morning circle, out in a big, open grassy field.
Jean does such a great job leading us with song in rounds, rhymes with bean bags, rhymes with movement, movement songs.
She also let me share my gathering song, I wrote called, Joyful Creation.
It is about why we homeschool and the chorus goes, "Our life is a joyful creation, and our song is a joyful celebration."
I love that with this style of education, we sing through every season, and every holiday, that it feels like life is one joyful celebration after the other.
It feels so good to have people in my life, like my Taproot friends.
After circle, it was time for Morning Workshops from 10:00 -11:30am. You could choose one of these:
Kindergarten at Home with Barbara and Karen
Science for Grades 1-4 with Rebecca and Joe
Crayon Drawing with Amber
Play, Humor and Connection with Kids with Dominique
Next was lunch at noon, then it was off to Early Afternoon Workshops from 1:30-3:00.
Pentatonic Flute Woven with Storytelling with me, Jodie
Classroom in a Backpack with Joe
Language Arts and History for Grades 1-4 with Jean and Barbara
How People Grow and Change, Science for Grades 5-8 with Rebecca
Then we had snack from 3:00 - 3:30pm. Snack for us consists of homemade goodies, like Sarah's granola, Karen's muffins, Dominique's cookies, hummus, salsa, chocolate, fruit, Barbara's raw garden veggies, and Sarah's Pickles that she pickled from her garden.
Next we had Late Afternoon Workshops from 3:30- 5:00pm.
Waldorf Music 101 with me, Jodie
Practical Inner Work Practices with Jean
The Art of Math, the Math of Art for Grades 5-8 with Rebecca and Amber
Making Standing Puppets with Barbara and Karen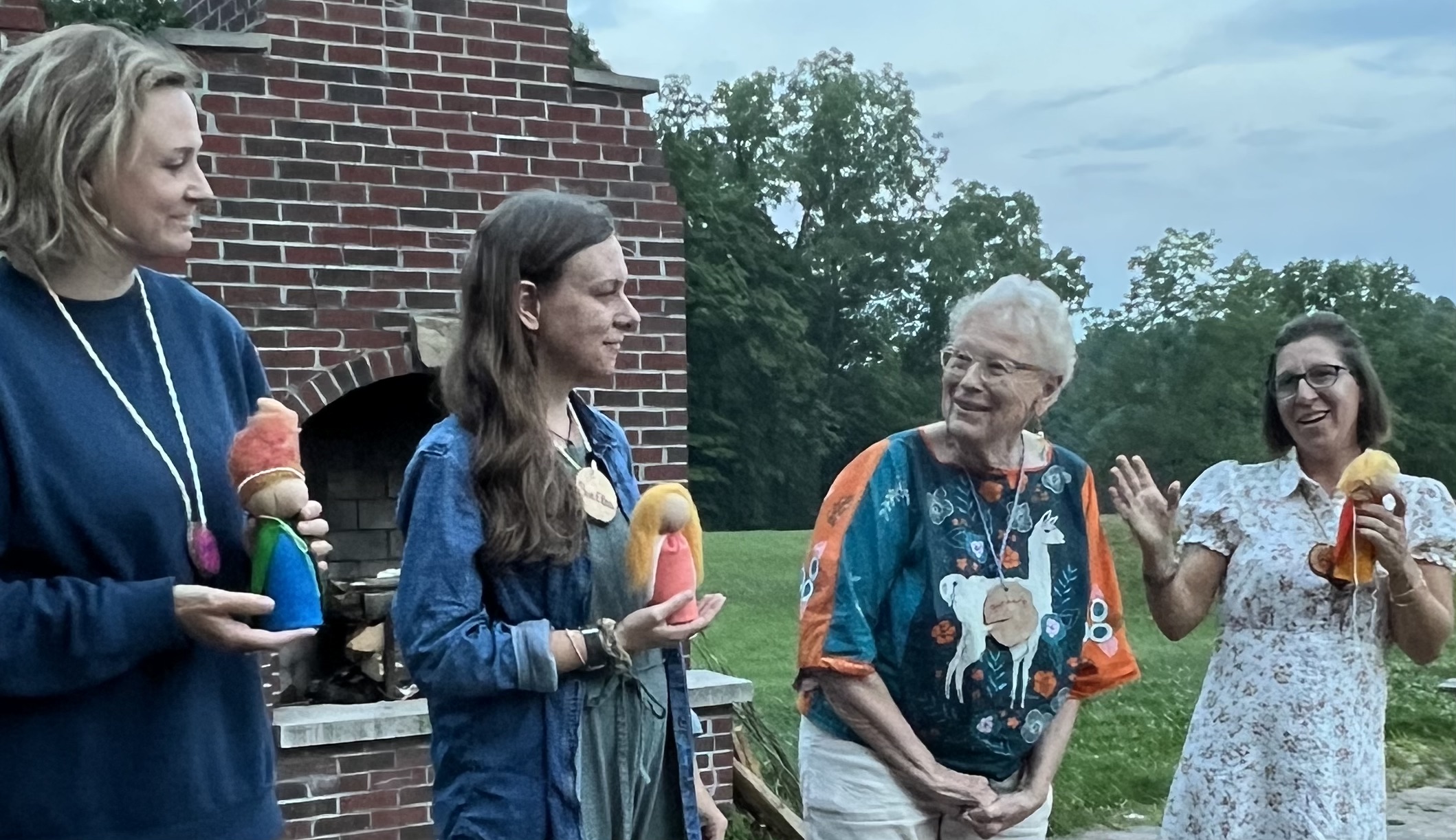 Then we had a 1 hour break, the waterfront was open from swimming and canoeing.
Dinner was from 6-7pm.
Then we had and evening program at 7:30 which was by the campfire.
We each told our homeschool story, then we roasted s'mores as I played my guitar and found some great songs we could all sing.
Laura came over with her guitar and we sang a sweet song called, Love. Find the lyrics to the song at the end.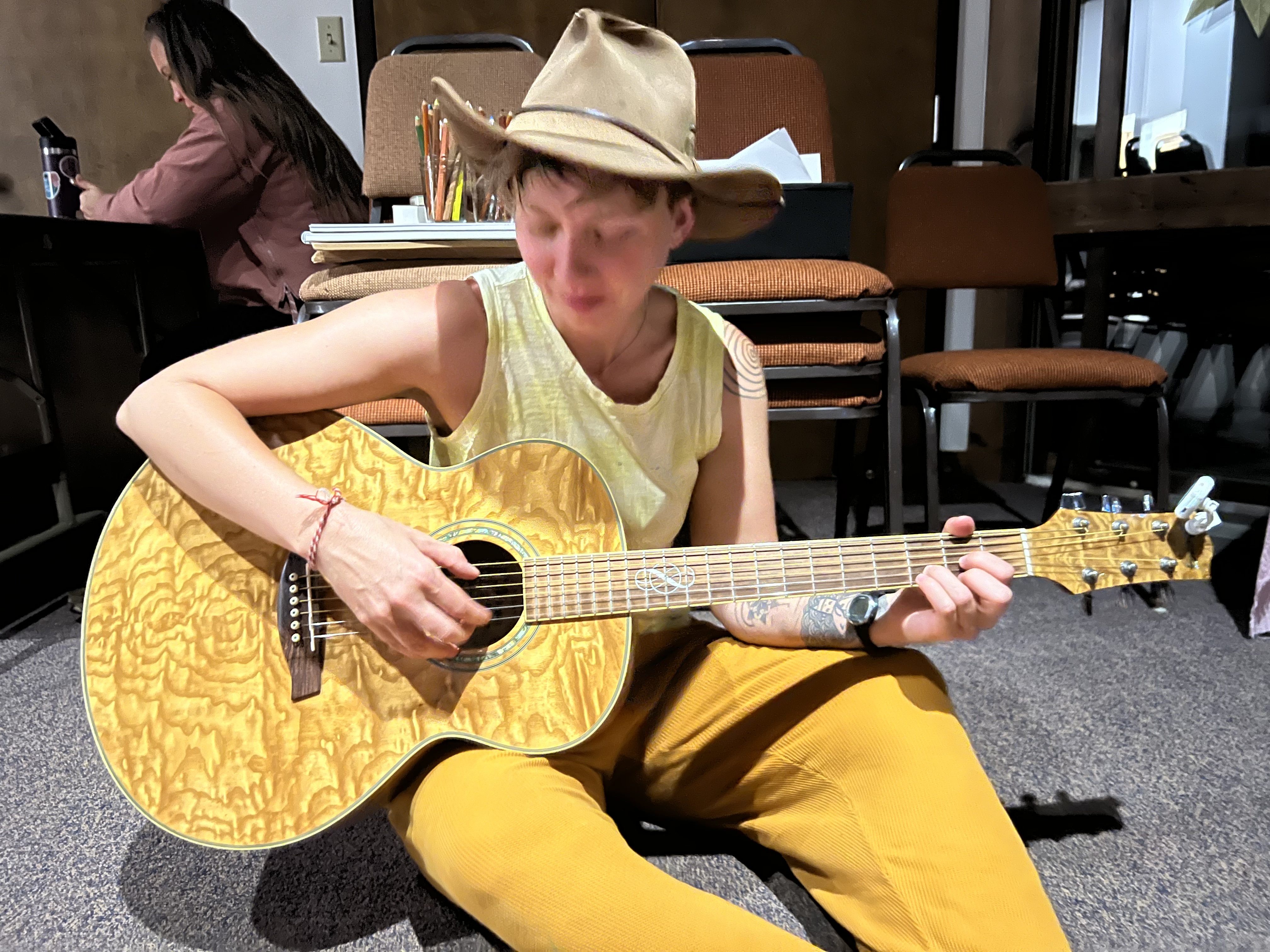 From start to finish it was an amazing jammed packed day! On to Saturday with the same line up just different workshops.
SATURDAY, August 5
I will just tell you our workshops since you got a feel of our day, Friday.
Morning Workshops
Making Silk Marionettes with Barbara and Karen
Language Arts and History for Grades 5-8 the Book Hearth Way with Jean
Handwork for Grades 1-4: Knitting Little Animals with Amber
Skills Development for the Elementary Years with Sarah
Early Afternoon Workshops
Inner Work Conversations with Joe

Math for Grades 1-4 with Rebecca

Watercolor Painting with Amber

Homeschooling High School with Jean
Late Afternoon Workshops
Games with Children with Jodie and Joe

Easy Peasy Beeswax Candles with Sarah and Dominique

Handwork for Grades 5+ with Barbara and Karen

Conversations with Amber and Rebecca
Our Evening Program is always fun because we review of all 24 classes.
Each class comes up and shares all the highlights and shows off their artwork, songs, crafts, or games, so that the ones who missed the class could get a feel for what they missed.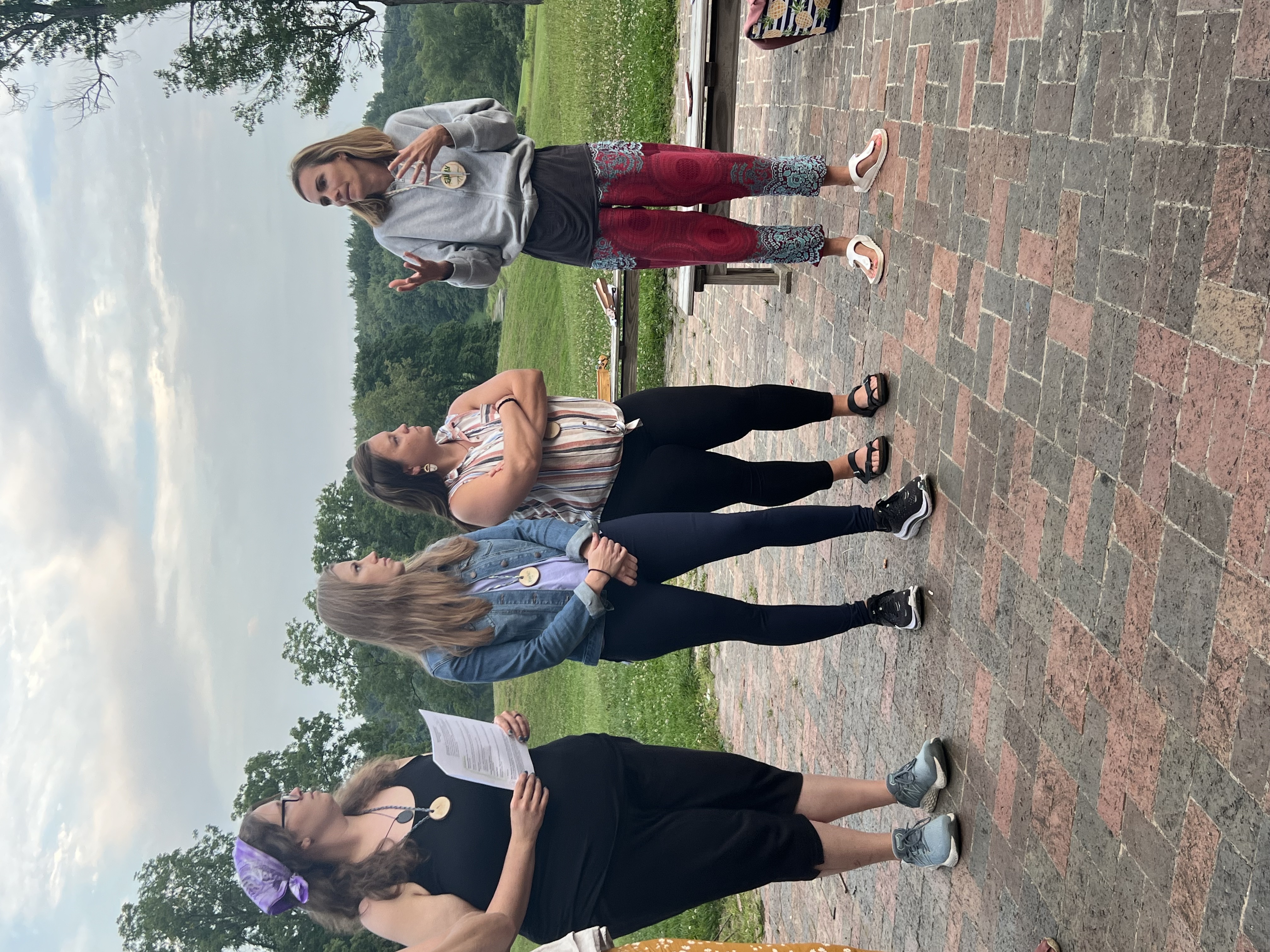 I was beyond impressed by this group we had this year. They were so intelligent.
They brought so much enthusiasm, gusto, and creativity. They were not scared to dive in, they went all in.
I am excited that these beautiful people are bringing such great work as they do the most important job, raise free thinkers who are eager to bring goodness and service to our world.
Jean ends the night with a giveaway. Everyone wins a prize, because we have so many loving and generous donations from Waldorf inspired companies.
It was time to say my good-byes to my friends Linh, Sarah, Cindy and everyone there. I just love them so much!!!
I had to slip out early Sunday morning, due to our long 12 hour trip back to Georgia.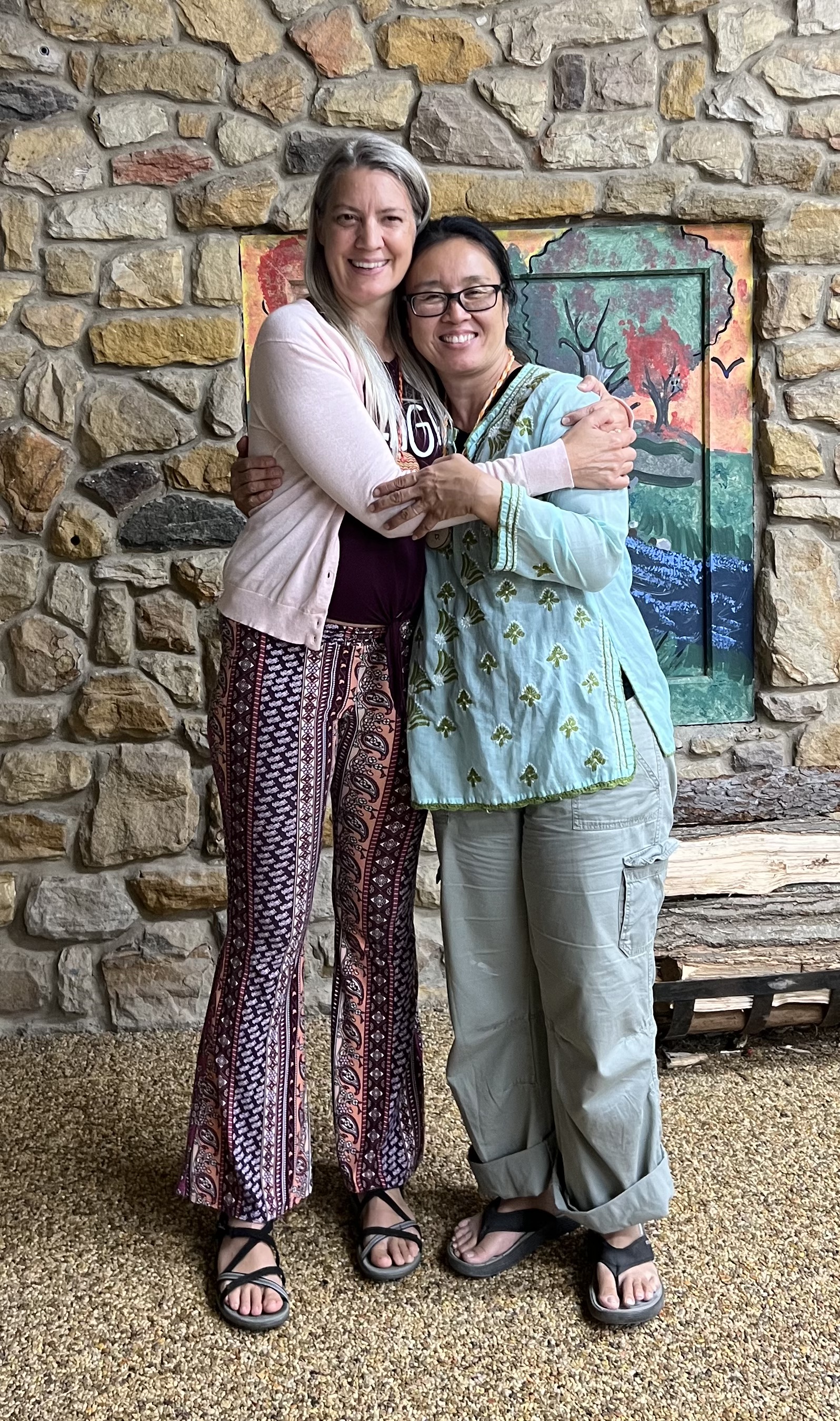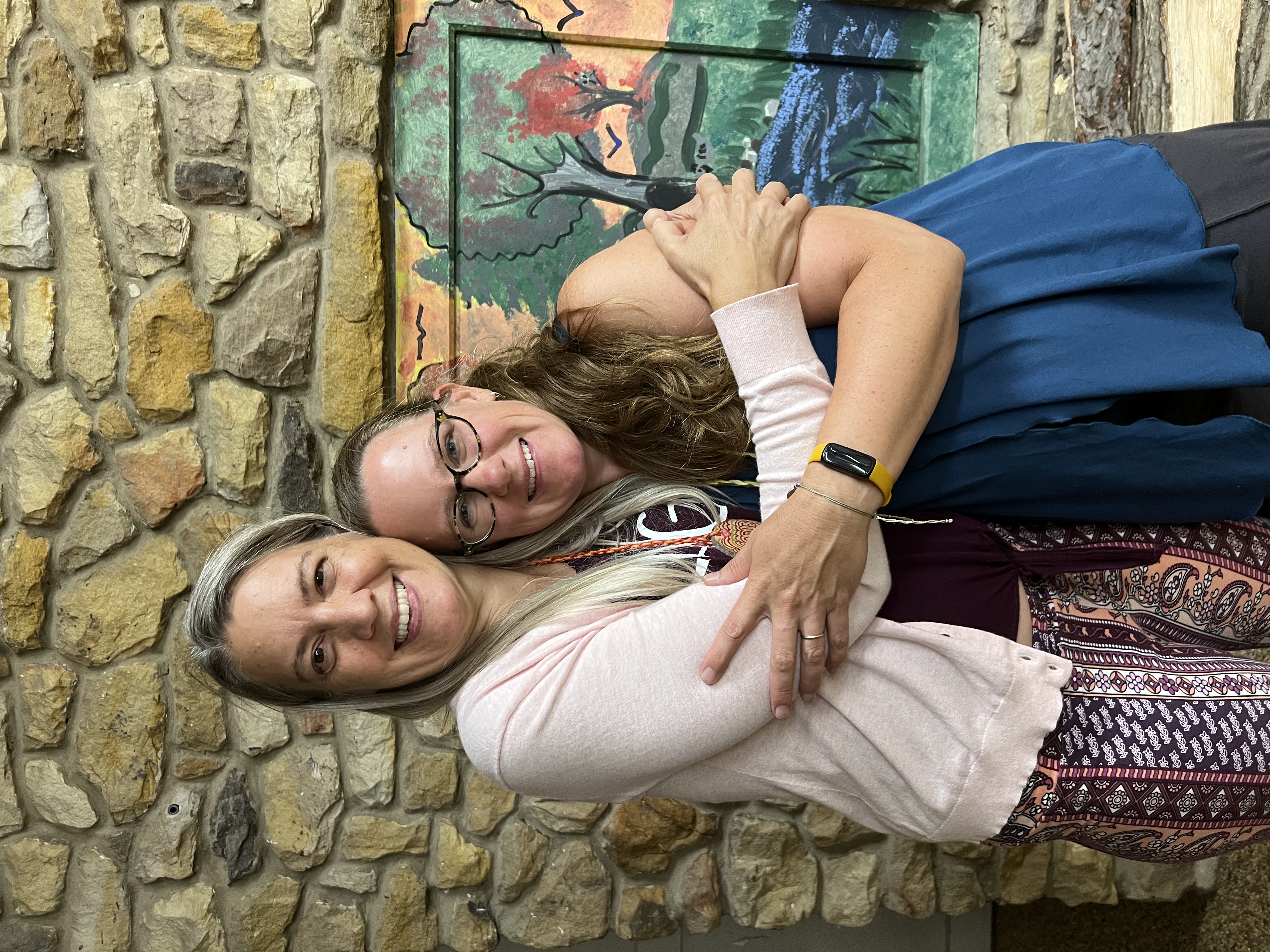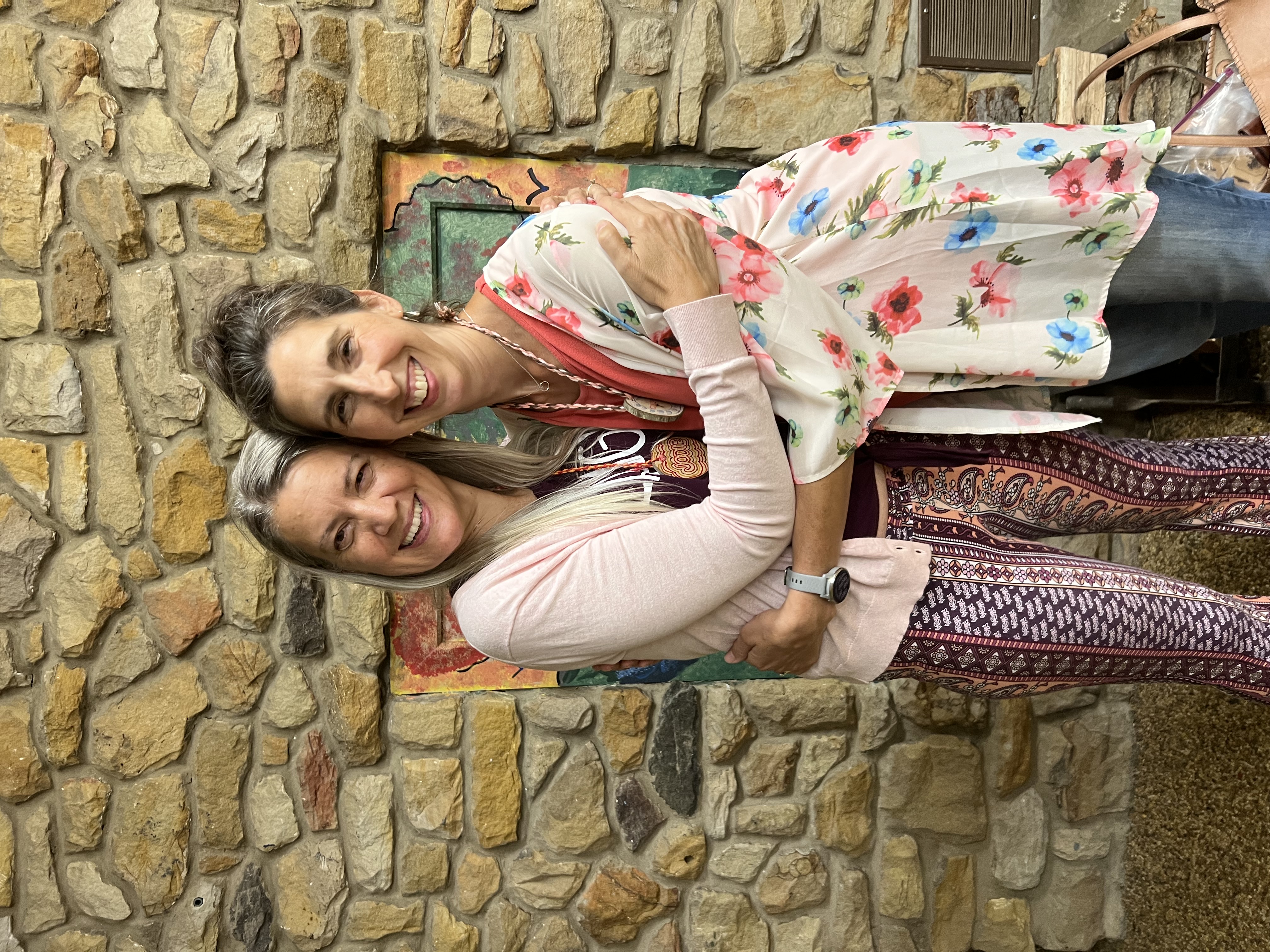 SUNDAY, August 6
On Sunday, there was one last Morning Circle, last workshop, then a Closing Ritual. I heard it went really well.
So much packed in one weekend. I am amazed at the schedule.
Jean Miller does such an amazing job, from start to finish.
What an honor to have a woman like this of such great leadership in our lives as we weave this beautiful education and lifestyle for the future.
Now we are all filled up with enough goodness, education, and friendship to keep us going for an entire year.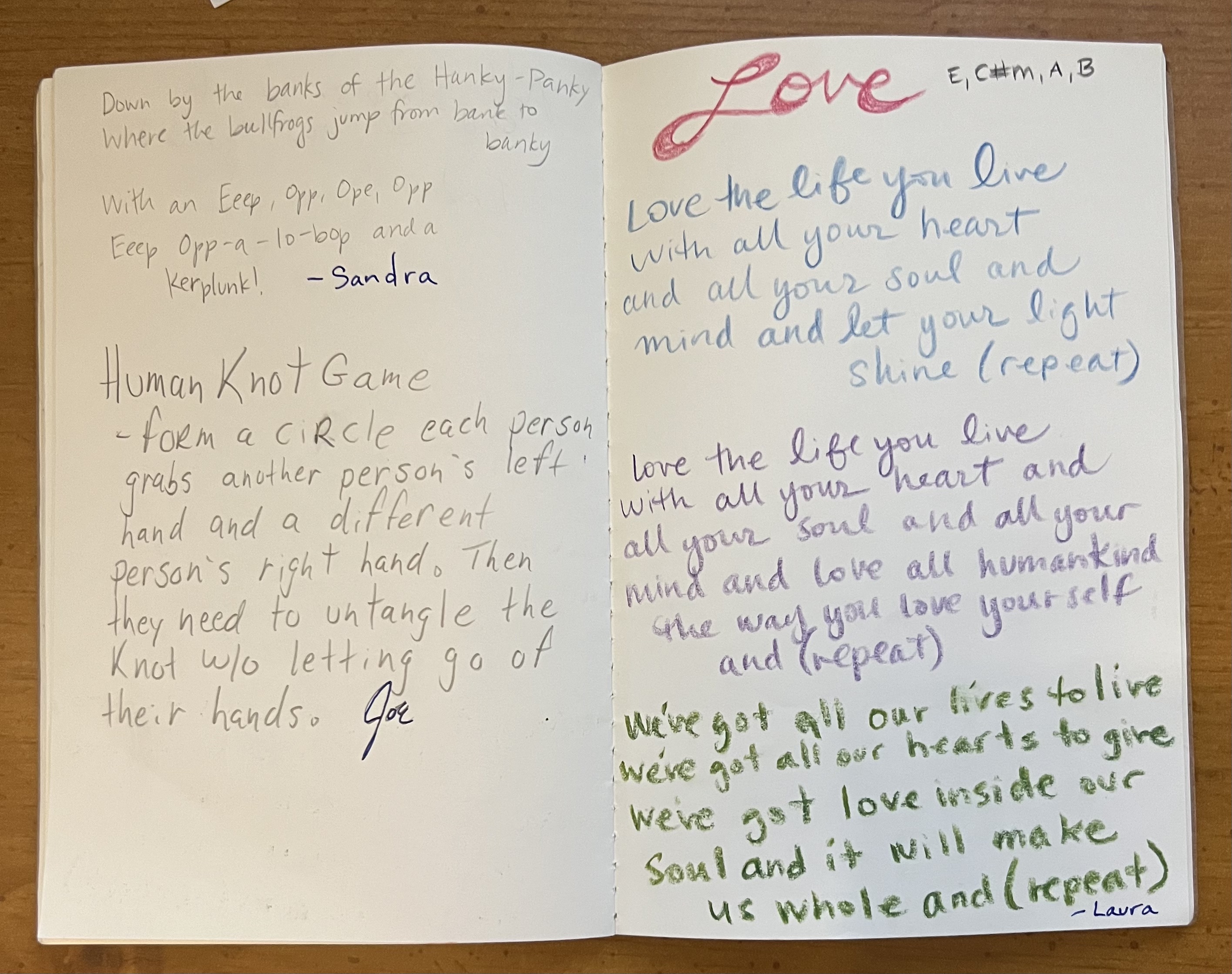 Here is my journal, where I let my friends share a hand clap, game and song with me.
Come join us next year! You can get more info here
Stay Connected!
And Get Your Free Guide called 8 STEPS TO CREATE LIVING MUSIC when you sign up today!